Garmin Swim
Nº 1 of sales in Swimming watches and heart rate monitors
13 reviews
Delivery 1 working day
More than 10 available
Garmin
A full-featured swim training watch for use in the pool.
Swimming watches and heart rate monitors
010-01004-00
Characteristics Garmin Swim
Stop counting laps. Let Garmin do the maths with Garmin Swim. It's the swimming watch designed for pool¹ use that tracks your distance, pace, stroke count and more.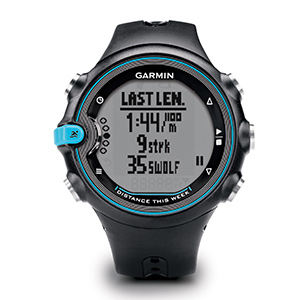 Strap It On and Dive In
Garmin Swim is ready to go right out of the box – just tell it the size of the pool you're swimming in and begin your workout. Its sleek profile allows it to cut right through the water, so it won't slow you down. And you can easily replace the battery yourself whenever needed (about once a year) so you're always ready to go.
Focus On Your Training
With Garmin Swim on your wrist, you can focus on your technique instead of what lap you're on. It automatically knows the stroke you're using and tracks your lengths, strokes, distance, pace and more. With a few button presses, you can also log drills or start timed sets without constantly monitoring the pool clock. It even calculates your SWOLF score to help you gauge your swimming efficiency, making it ideal for lap swimmers of all levels. The intuitive interface utilizes 6 exterior buttons, so each and every function can be accessed quickly and easily.
Stay Motivated
Slim and attractive enough to be worn as a daily watch, Garmin Swim serves as a personal reminder of your goals. To help you stay motivated, it displays your weekly accumulated distance under the time of day. Watch features include dual time zones and alarm.
Analyze and Share Workouts
After your workout, upload your swim data to Garmin Connect, our website for free online analysis. Here, you can view your detailed metrics and track your progress over time. You can also share your workout data with your coaches, workout buddies, or friends and family. Through the magic of ANT+™ wireless technology and the USB stick that comes with your Garmin Swim, your workout data automatically transfers to your computer when in range. Garmin Connect is Mac® and Windows® compatible.
¹Designed for lap pools of 17 m or more.
Physical & Performance
· Unit dimensions, WxHxL: 1.9" x .5" x 1.7" (4.8 x 1.3 x 4.4 cm).
· Weight: 1.4 oz (40.0 g).
· Display resolution, WxH: 55 x 31 pixels.
· Battery: CR2032 (user replaceable).
· Battery life: 1 year.
· Water resistant: yes (50m).
· GPS-enabled: no.
Features
· Length/lap counting: yes.
· Distance display: yes.
· Stroke counting: yes.
· Pace display: yes.
· Calories: yes.
· Heart rate: no.
· Swolf score: yes.
· Stroke type identification: yes.
· Quick timer workouts: yes.
· Configurable training pages: yes.
· Auto-detect rest times: yes.
· Works for drills: yes (user input required).
· Garmin Connect™ compatible (online community where you analyze, categorize and share data): yes.
· Automatic sync (automatically transfers data to your computer): yes.
· Data storage: yes (at least 30 workouts).
· Sport watch: yes.
· Additional: Watch functions include time of day (12/24h), dual time zone, calendar (day/date), daily alarm.

· For pools of minimum 17m.
What's in the Box:
· Garmin Swim.
· USB ANT Stick™.
· Manuals.
Shipping Garmin Swim
For all products stating "delivery: 1 working day" at fitnessdigital, normal delivery is the next working day. (occasionnaly 2 working days depending on the destination). Orders for 1 working day delivery must be placed by 14:30 from Monday to Friday. Orders are delivered on working days only from Monday to Friday.
At fitnessdigital we take great care over the delivery and always do everything possible to ensure that the delivery times are respected. For this reason we work with transport leaders such as TNT, DHL, DACHSER, DPD or UPS.
Please note that if you order more than one product, you might receive them on different days and/or with different transport companies; in this case too we do our very best to respect delivery time of all the products ordered.
The transport carriers will only deliver to the ground floor entrance of the building or property. Delivery does not include taking the merchandise up to a first floor nor does it include installment.
Not at home for the delivery? If an attempt at delivery is made and there is no one at home, the transport agency will leave you a note instructing you to contact them so that you can confirm a new delivery date. When the transport company delivers the goods, please check the following:
That the number of packages coincides with the number indicated on the delivery note. If the number of packages does not coincide, please note this on the delivery note before signing for the delivery.
The packaging does not show any signs of being misshapen or damaged. If you have any doubts, make a note on the delivery note about the appearance of the packages and get in touch with us.
***If the warranty is longer than two years, it will be shown in the product description.
Warranty information
FitnessDigital.com is an official distributor, therefore we can
WARRANT THAT:
The product is new
The product comes in its original packaging
As we are official distributors, we offer after sales service for all the products of this brand
The brand
Dr. Min Kao co-founded Garmin Corporation with Gary Burrell in October 1989 to integrate Global Positioning System (GPS) technology into navigation devices for multiple markets. Since its creation with 1,000 employees the company has grown and has now more than 9,200 associates in 35 offices worldwide. Garmin is a leading, worldwide provider of navigation and fitness products. They are committed to making superior products for automotive, aviation, marine, outdoor and sports that are an essential part of their customers? lives.
Garmin offers a wide range of products all over the world. Their user-friendly products are not only sought after for their compelling design, superior quality and best value, but they also have innovative features that enhance the lives of their customers. Garmin GPS solutions are a key part of today?s most useful, versatile and cost-efficient fleet monitoring solutions. With Garmin on your side, drivers and dispatchers work together to improve customer response and optimize fleet resources to achieve lower costs and higher profits.
Payment methods Garmin Swim
Cash On DeliveryNo surcharge
You will receive the order at the registered address and the payment is made on delivery in cash. The cash on delivery option is only available for orders of 150 € or more.
Credit cardNo surcharge
Pay securely with the following credit cards: VISA, VISA Electron, 4B, or Mastercard
or with an authenticated credit card (Verified by Visa / Mastercard SecureCode).
If you have a credit card that allows you to purchase in internet, and you have a code or password that allows you to pay on-line, this is a good and comfortbale way to pay for you. Payment on-line means that your order will be paid for right after checkout, and is therefore very fast. fitnessdigital.pl is 100% secure. We guarantee the safety of your credit card information. All credit card information is handled with the utmost security and will never be released to any other organisation under any circumstance.
PayPalNo surcharge
Your order will be sent upon receipt of the PayPal confirmation of payment of the full amount. What is PayPal?
fitnessdigital could sometimes ask a customer to use a certain payment methods ( for instance if the information given to us is not complete or seems to include false information). This could be the case when we are not able to properly identify who the customer is. We could sometimes ask for specially added documents as well, in order to prove payment
Delivery costs, delivery time and terms and conditions for free delivery are the same for all payment methods
Cash On Delivery payments can be made in the local currency (€).
Ask the expert about Garmin Swim
In this section you can find answers from our users and experts
2 Questions 1 Answers
How big is the strap? Can it be altered for tiny wrists.Asked by Julie from WirralDo you know the answer? Please let us know!0 Answers
Will it still be water proof when you change the batteries yourself.Asked by Barbara from KilkennyDo you know the answer? Please let us know!1 Answers

Hello, The supplier does not guarantee this, so I guess it is better to have them changed at a watchmakers or send the product to Garmin to have them changed. especially in case of a swim watch. WinekeAnswered by FitnessDigital.com
User reviews about Garmin Swim
4.5
Good Product for Expert.
Very accurate length count but not great for stroke identification for casual swimmer. Failed to identified my breast stroke reliably. Back stroke was fine as was freestyle but that seems to be the default so it is not surprising that it is recognised. More instructions would help with Garmin Connect as it is a bit confusing.
Garmin Swim
Garmin Swim
Well chuffed!
I've only used the product once so far but I am delighted with it. It was very easy to set up and get started (and I am an old dear!) After my swim, I was able to synch it easily with my computer and the information provided was brilliant - really interesting to see my performance. I swim because of joint problems but was getting very bored. The Garmin Swim watch has given me back that motivation so I'm looking forward to my next session to compare the results.
Garmin Swim
Garmin Swim
I used to just turn up and swim for 45 minutes, so the data from the Garmin Swim has added a new dimension to my session. I have used it a couple of times now and generally very pleased, although I suspect that it might be dropping lengths, as I seem to have ended up with an odd number when should be even.
Garmin Swim
Garmin Swim
Garmin Swim
Garmin Swim
Very good purchase.
The watch is great for everyday wear as well as for swimming. It generally detects the distance and the swim style, however, it never detects butterfly and sometimes makes mistakes in the calculation of the distance in the range of 25-50 meters (while swimming ca. 2700 meters). Nevertheless, it's a good purchase and I would go next time for a most advanced version covering running and cycling as well.
Garmin Swim
Great value, good for freestyle, not for breaststroke
Not had it long enough to comment on quality but it seems very well made. Not the best at tracking my breaststroke but perhaps thats more down to my poor form...really good at recording freestyle. Lots of nice data to analyze. Great value too. Make sure to sync the watch before doing any activities as otherwise your first activity will have the wrong date on Strava. Battery lasts a year which is so nice in these days to not have to be constantly charging it like most other tech
Garmin Swim
Really Good Swim Watch
The Garmin Swim is a really good SWIM watch. The watch is simple to use and the interface is very intuitive you won't struggle to use and configure. Pros: - Not too big and not too heavy, you can use as a day to day watch - Sensors are very good to identify the stroke - There is a "log drill" so you can log the drills length Cons: - The watch can't connect with your smartphone (doesn't have Bluetooth connectivity), you need to sync using your computer and upload to Garmin Connect - The pool size range is from 17 - 150 meters and sometimes I swim in a 15 meters, the watch could accept smaller pool sizes. If like me you just need an afordable watch to track your pool swimming training, with a good size watch, very good sensors and to check your performance using Garmin Connect app, this watch is for you.
Garmin Swim
Lap Swimming
I really enjoy using this product to keep track of swimming. But it is important to push off from the wall to allow watch to realise you are starting new length. Pros: Upload and analyse swim performance, strokes and speed. Cons: Can not upload workouts to this device, so back to piece of paper for the planning session. Giving 4 starts and initially thought that upload activities were just like my other garmin products, but this feature does not exist with this particular product.
Garmin Swim
Excellent
Got to the point where I couldn't keep track of lengths anymore so bought the swim as a Christmas present to myself! Fantastic piece of equipment. Have used for about 10 pool sessions now and has mainly counted laps accurately. Have to give a good push off from wall on turns so my fault for the ones that it didn't catch. Great to see progress and have the Swim.com app so can see all workouts once uploaded with the ant stick that came with the watch. watch also calculates Swolf, lengths, total distance, time, time per 100m and calories burned. So far so good, would highly recommend. Great service from fitness digital as well. Arrived a few days early by DHL. Wasn't expecting it before Christmas but arrived on Christmas Eve morning.
Garmin Swim
Garmin Swim